OTE 160-800 Load Isolation Switch
New type OTE load isolation switch adopts new contact system and smaller frame to meet the
breaking and isolating requirements. It can replace the knife switch and isolation switch and
make the products better
Types and specifications desription
Application range
OTE load isolation switch is widely used as main switch in all kinds of low voltage switchgear,
motor control center and also power control box, cable distribution box, floor distribution box,
which do not need short-circuit and overheating protection.
It can be also used as the isola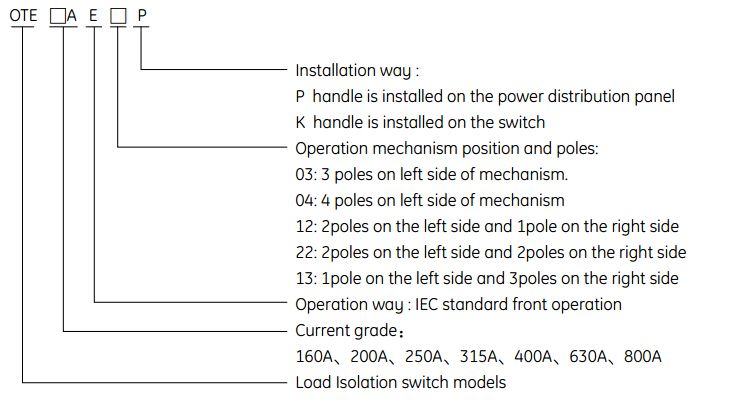 tor switch for all kinds of motors or regarded as the maitainance
switch for other electrical equipments. In addition, it can be used in the solar system at all levels
of junction box, inverter and battery system. It provides solution for system of breaking and
manual isolation.
OTE load isolation switch has new design, compact volume and more function. It has visible
window and padlock handle to provide the most reliable security. Even in closed condition, there
is no need to reduce capacity. It provides 1-8 poles switch with modular design. The installation
is more flexible and convenient.
Products Installation
The length of Axis is adjustable, and there is no need of accurate intercept axis length.
Accessory can be directly installed. The location of terminal design is for double cable. Two small
specifications cables are easier to bend, reducing the demand for space. The switch installation
feet angle is adjustable.when installed, it can be in fixed on the side or the upper of switch.
Electrical Specification
High short circuit current endurance capacity protect switch from cutting off the current up to
100KA. Load isolation switch is installed in a closed environment and no need to reduce the rated
current capacity.
Protection
Users can see the actual location of the contact, avoiding operation error.The control wires of
auxiliary contact can be installed in the cable groove and protected properly.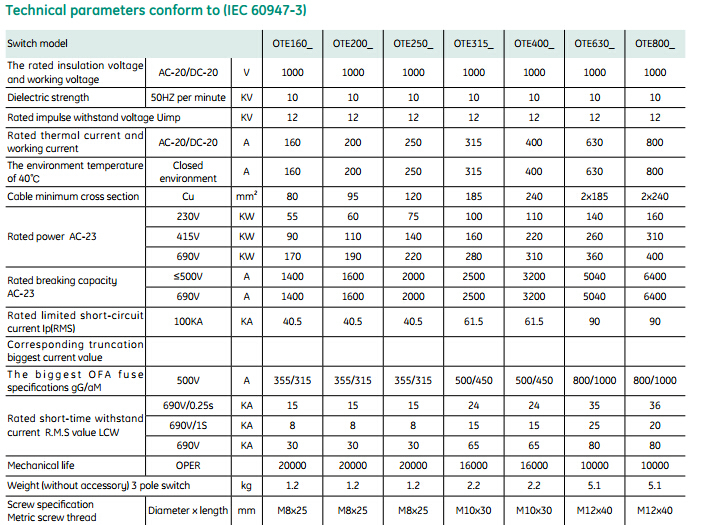 Front operation rotation isolating switch
With ON - OFF/l - o black plastic handle and the metal shaft. Handle is IP60 protection grade. In
the OFF position, it can be added padlock. In ON position, ut can be interlocked with door, OTE
160-250A shaft adjustable depth is140- 205 mm, OTE 315-400A shaft adjustable depth is 140-220mm, OTE 630-800A shaft adjustable depth is 160-285mm
BLSB series load isolation switch enclosure
OTE on the application of solar PV
Rated voltage up to 1000 v (Under the condition of DC 21)
Rated current 160A-630A
Compact structure, excellent performance
Overall & installation dimensions